Collagraphy/Monotype Workshop May 14-15 2016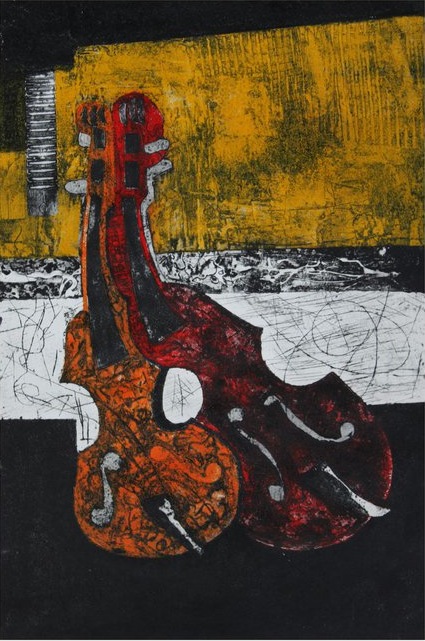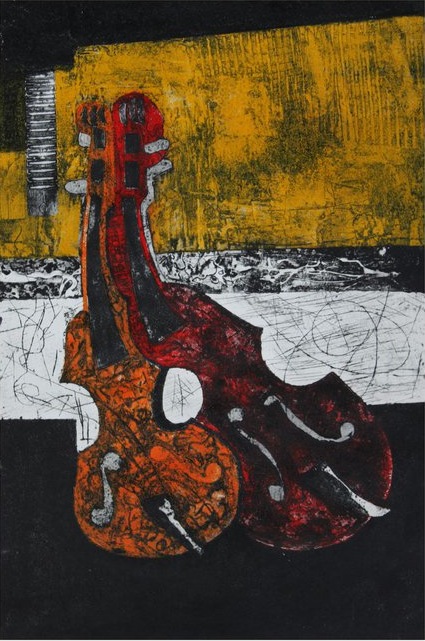 Collagraphy/Monotype Workshop May 14-15 2016
Two-day workshop with Robert Canaga
May 14 and 15, 2016
10 am - 4 pm
$160 plus $30 materials fee
(WhitPrint members: $144 plus $30 for materials)
About The Workshop
Collagraphy is the art of printing from plates formed by a collage of textures and objects in a hardened medium. A monotype is a single work printed from a painting or drawing made on a smooth plate. In this workshop you'll use both collagraphy and monotyping to produce a rich and complex work of art.
Day One: Creating the plate
A collagraph plate can be a simple string drawing or an intricate masterpiece built from objects such as coins, fabrics, wood -- anything, really, as long as it is not too thick. We will use various gels, pastes, and glue in combination with other materials such as string, cloth, carborundum, salt, and items you can press in to the surface to create texture to build your plate. You'll play with all types of combinations, even invent your own, then let let the plate dry and coat it with a sealer. In the afternoon we will print and, knowing what you have learned, you will create your final plate(s). You may do more than one plate.
Day Two: Creating a monotype
On day two you'll enhance the effects of collagraphy by creating a monotype based on your plate and printing it as a base for your image. After exploring both relief and intaglio inking methods to produce alternative images, you'll roll and/or wipe ink onto your plate and print onto to your monotype. If there is time, we will explore viscosity rolling to add yet another dimension to your image.
About The Instructor
Robert L Canaga
Painter and Printmaker
Wine Blogger
Owner of Robert Canaga Galleries in Portland and Eugene, 1997-2002
Curator for OPUS6IX
Curator for PeaceHealth Headquarters 2011-12
Curator for The Gallery at the Watershed
Past President Oregon Mozart Players
Current Chair of Travel Lane County Board of Directors
Selection committee for EMX art
Selection committee for Lane Community College Sculpture
Reserving Your Spot
Register and pay in full to reserve your spot in the workshop. To cancel a workshop enrollment, please email studio@whitprint.com. You'll get a full refund if your request is received at least 10 days before the start of the workshop, or a 50% refund if it is received at least 3 days before the start.
Register for this workshop